2020.11.23 [Mon.] (20:00 - 21:00)
Meditation Talk Live「Teach Us, Mr.Nirmal !」
Every Monday, the Meditation talk live "Teach Us, Mr.Nirmal!" invites various guests to solve their various problems and consultations with the Nemal method.
The guests are all very attractive people who are active in various industries. Mr. Nirmal, who has been meditating for 35 years. , will answer all the deep questions and inquiries that only active people have. After the talk, practice meditation together to help solve your questions and charge your energy at once!
Guests on Monday, November 23th
Melody Yoko, an actress and model, AJ certified CSC (Chief Supermodel Coach) and RYT certified yoga teacher
After working as a model in a lots of media such as fashion magazines and runways, she made her debut as an actress in Los Angeles and is now active globally.She normaly prays, chanting, and meditates to improve her mind and body.
What kind of questions does Ms.Yoko ask Mr. Nirmal?
Let's meditate!!!
【Her lifestyle】
"Currently, I've been learning lightwork to improve my mind and body by feeling each energy that everyone has.
I really would like to share with you the various life skills I learned from my own experience. I do yoga, HIIT, dance, running, swimming, etc. regularly. I wake up at about 7 o'clock without an alarm clock, even IF I have no work. In my daily life,I drink a glass of tepid water, take supplements, breathwork and meditate. Then, if you have time, pray, energy activation techniques, chanting, and yoga.
I make a nutritious breakfast and start the day! Depending on the day, I also incorporate journaling. I watch the sunset as much as possible and end the night with meditation."
If you can't go far to the EPW's lounge to join or may not be in time, we are going to also live stream on Instagram, so please have a look!
suwaru Instagram:@suwaru_meditation
EVENT CALENDAR

Loading…
PROFILE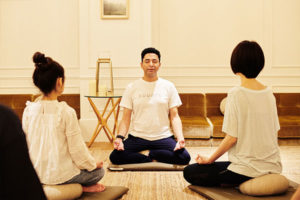 Mr. Nirmal Raj Gyawali
He is a practitioner of the ancient wisdom of Himalayan meditation, having studied essential yoga (asana, breathing and meditation) from the age of nine at the Royal Arogya Ashram founded by his grandfather in Nepal. A thoroughbred of the meditation world, he began teaching royalty and dignitaries at the age of 15. At the age of 22, he completed his PhD in Yoga Meditation and graduated in Business Administration from the prestigious Tribhuvan University and became a meditation researcher with a strong business background. He is a professional educator who has taught in 20 countries for nearly 30 years and has trained over 100 yoga and meditation teachers since coming to Japan in 2003. Since 2019, he has founded Suwaru Inc. He offers numerous methods of meditation and mindfulness for modern life, such as the Nirmal method recommended for business people.
TAGS