2020.10.23[Fri.] (18:00 - 21:00)
¥3,000
twelv. × EAT PLAY WORKS ~SAKE BAR NIGHT~
twelv. will hold a party "SAKE BAR NIGHT".
Dress code is "Something Black".
※The price includes 2 drinks.
HP: www.twelv.in
Instagram: @12twelv / @taca3
PROFILE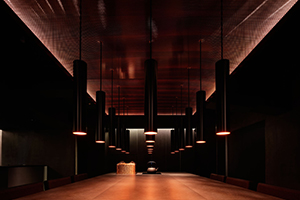 twelv.
WORLD'S FIRST BIO SAKE BAR TO SPREAD NEW WAVE OF SAKE CULTURE.
twelv. is a membership-only sake bar, set up as the world' s first to specialize in bio sake in 2016, situated at Nishi-azabu, the premium nightlife district in Tokyo. "Bio/Premium/Craft" are the three pillars behind the curation, along with refined sake and tapas sourced from all around Japan for bringing the best gastronomic experience. Dmitry Bulakh, bronze prize winner at latest sake sommelier world championship, takes up sake selection and curation of twelv.' s original sparkling sake (in limited production). Interior design featuring custom-made copper moire screen covering wall and ceiling is a co-creation of Komal Kehar (done shop design for Alexander Wang) and Abilio Marcelo Hagihara (ex-DV, PRADA USA/JPA) for minimal and sophisticated atmosphere. Norihiro Tacamizuma, owner/creative director, is a prominent figure in Tokyo for total production covering project planning, project management and launch event for many famous clubs, and fashion brands/music labels in Japan and overseas. Opening hour starts from 21:00 to midnight. Reservation restricted services of three kinds - restaurant time for pairing and a la carte, bar lounge and private dining are upon request to accommodate each unique need through the flow of time. DJ booth is set for live DJ entertainment during the late hours to elevate bar ambience through a blend of sake and music. twelv. targets upper scale customers from Japan and abroad, who seek sake tasting in unique sense of style at an unparalleled space; where the place could also be a tea pavilion, a gallery, or a salon. Everything to see, hear and feel is guaranteed to be superb; a presentation of art. We at twelv. are proud to present sake to the world in an absolutely new style.
Contact