2020.10.27[Tue] (16:00 - 18:00)
Free
Yoshoku bistro TOYAMA ~ Tasting party before opening ~
"Yoshoku for a grown-up" made by chef Toyama who continues to pursue the taste that is transmitted only by taking time and effort by facing the ingredients thoroughly. "Yoshoku bistro TOYAMA" will open in Nishi-Azabu on November 2nd, with a new style that includes a la carte as the main course.
To commemorate the opening, we will hold a tasting party that also serves as an unveiling party for EAT PLAY WORKS members and their companions. Please enjoy this opportunity to experience it in advance.
* It will be over as soon as All the food is gone.
He uses seasonal ingredients centered on the ingredients of Kumamoto-ken where chef Toyama was born and raised and pursues a taste that can be conveyed only by taking time and effort. He will offer "Yoshoku for adlut" with French added to "Yoshoku" that Japan has evolved independently in a course style.
He will cook on the spot while listening directly to your request in the chef's kitchen that can be seen from all the audience seats.
Yoshoku Bistro TOYAMA
Official web site→Yoshoku Bistro TOYAMA
PROFILE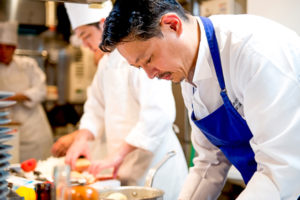 Tadayoshi Toyama
Born in Kumamoto-ken in 1971. After graduating from a culinary school, he met Yoshoku in Fukuoka-ken and started his career as a chef. After that, he returned to Kumamoto, gained experience in French cuisine at the hotel, and was promoted to chef. After serving as a chef at the industry's largest bridal company, he moved to Kyoto. Served as a chef at "Bistro Sept" and "Yoshoku Ogata", laying the foundation for current Yoshoku. In September 2017, he was appointed as an executive chef of "Yoshoku Toyama" in Ueno. In November 2020, he became the executive chef of "Yoshoku bistro TOYAMA".
TAGS