Jan. 16,23,30 [Mon.] 19:00-20:00
Magh Month "Meditation to grow your inner self"
The Veda Calendar Meditation on Monday, January 24th and 31st are Magh month.
In the Vedic calendar, the month of Magh begins on January 15th and ends Febrary 12th.
The first day of Magh Month is the winter solstice in India, and it is considered to be the beginning of an auspicious time when the daytime (light) becomes longer.
This time when the sunlight starts to grow is when you store the energy you need in your body before it sprouts and start preparing to sprout.
It would be good to eat black beans, rice, ginger and kichori with a lot of ghee. Black sesame is also good. And it would be good to massage with sesame oil in the morning and take a shower that is not too hot. Especially don't make your head too hot.
Just because it's cold takes away your own power to overprotect yourself.
So that you can create great energy to grow your inner self.
With the power of Saturn, let's take in the sunlight and aim for further growth!
EVENT CALENDAR

Loading…
PROFILE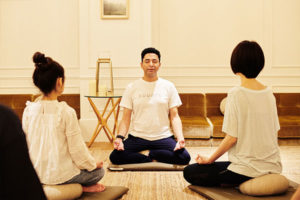 Mr. Nirmal Raj Gyawali
He is a practitioner of the ancient wisdom of Himalayan meditation, having studied essential yoga (asana, breathing and meditation) from the age of nine at the Royal Arogya Ashram founded by his grandfather in Nepal. A thoroughbred of the meditation world, he began teaching royalty and dignitaries at the age of 15. At the age of 22, he completed his PhD in Yoga Meditation and graduated in Business Administration from the prestigious Tribhuvan University and became a meditation researcher with a strong business background. He is a professional educator who has taught in 20 countries for nearly 30 years and has trained over 100 yoga and meditation teachers since coming to Japan in 2003. Since 2019, he has founded Suwaru Inc. He offers numerous methods of meditation and mindfulness for modern life, such as the Nirmal method recommended for business people.
TAGS