2021.3.1 [Mon.] (19:00 - 20:00)
Meditation Talk Live「Teach Us, Mr.Nirmal!」
The 23rd「Teach Us, Mr.Nirmal!」
Date and Time:3.1.[Mon]19:00-20:00
Guest:Tsukasa Nakagawa(Photographer)
※Held on the first Monday of every month
※Live streaming available
"Teach Us, Mr.Nirmal!" is a content in which Dr Nirmal, who has 35 years of meditation, answers a wide variety of concerns and consultations from various guests, and after the talk, practice meditation together to help solve your questions.
Guests on Monday, March 1st
Tsukasa Nakagawa
,who is a photographer.
When he was a student in Yamaguchi-ken,actualy he was a comedy partner of "Atsushi Tamura" who is active as "London Boots Ichi-gō Ni-gō" in Japanese comedians.
After that, he moved to Tokyo and is now active as a photographer.
He oftern gets nervous easily when talking in public or in a tense shooting scene. On the other hand, although he loves such places,he isn't really good at it.
What kind of questions does Mr. Tsukasa ask Mr. Nirmal?
Let's meditate!!!
【His lifestyle】
"I have a routine of exercising. I keep going to the gym and practing Iyengar yoga for a long time. I feel like that I'm leading a healthy lifestyle after corona virus happened. Even in the food part, I recently cook for myself often. And making juice with a slow juicer, which has become my morning routine. I like cars and listening to music. I'm picky about car speackers and like driving while listening to my favorite sounds.
When I feel the most "Mindful" is while I'm shooting,probably.Haha."
If you can't go far to the EPW's lounge to join or may not be in time, we are going to also live stream on Instagram, so please have a look!
suwaru Instagram:@suwaru_meditation
EVENT CALENDAR

Loading…
PROFILE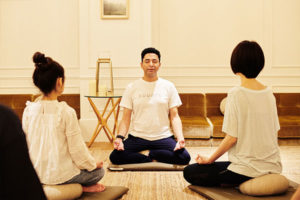 Mr. Nirmal Raj Gyawali
He is a practitioner of the ancient wisdom of Himalayan meditation, having studied essential yoga (asana, breathing and meditation) from the age of nine at the Royal Arogya Ashram founded by his grandfather in Nepal. A thoroughbred of the meditation world, he began teaching royalty and dignitaries at the age of 15. At the age of 22, he completed his PhD in Yoga Meditation and graduated in Business Administration from the prestigious Tribhuvan University and became a meditation researcher with a strong business background. He is a professional educator who has taught in 20 countries for nearly 30 years and has trained over 100 yoga and meditation teachers since coming to Japan in 2003. Since 2019, he has founded Suwaru Inc. He offers numerous methods of meditation and mindfulness for modern life, such as the Nirmal method recommended for business people.
TAGS