2020.11.2 [Mon.] (20:00 - 21:00)
Meditation Talk Live「Teach Us, Mr.Nirmal !」
Every Monday, the Meditation talk live "Teach Us, Mr.Nirmal!" invites various guests to solve their various problems and consultations with the Nemal method.
The guests are all very attractive people who are active in various industries. Mr. Nirmal, who has been meditating for 35 years. , will answer all the deep questions and inquiries that only active people have. After the talk, practice meditation together to help solve your questions and charge your energy at once!
Guests on Monday, November 2nd
Yoga instructor, yoga life advisor, Sayaka Shibuki

As a yoga instructor and yoga life adviser, she has appeared in many media such as magazines, commercials, and radio and holded classes and appeared on many stages. Ms. Shibuki, whose lifestyle has attracted attention and is also active as a fashion icon. Just recently, she started meditation regularly.
What kind of questions does she ask Mr. Nirmal?
Let's meditate!!!

【About Guest】
Yoga instructor, yoga life advisor
Since 2006, she has been holding classes that resonate with the mind and body of modern women, based on the traditional Indian style of Shivananda Yoga. She is a popular yoga teacher who has a smile and humor. In addition, a number of advices on "romance and relationships" have been serializedas as a yoga life adviser. It is also being updated on her Instagram.
After giving birth in 2016, the child-rearing lifestyle in the sea of Kamakura has attracted more attention, and it has been widely successful as a fashion icon.
Ambassador KOSEpredia、lululemon、sambazon etc.
Instagram ▶️@yoga_citta

【Her lifestyle】
She lives near the sea in Kamakura. She has her son who is 4 years old and her husband . When she works is in Tokyo, and feels her private when in Kamakura. She rarely go out on holidays and misses her days when she was spending all her five senses and time for herself. She feels a little lonely becuase she is busy as her mother and wife, but fulfilling every day.
If you can't go far to the EPW's lounge to join or may not be in time, we are going to also live stream on Instagram, so please have a look!
suwaru Instagram:@suwaru_meditation
EVENT CALENDAR

Loading…
PROFILE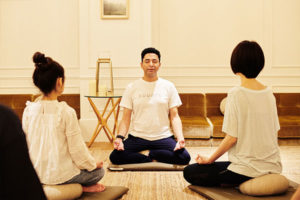 Mr. Nirmal Raj Gyawali
He is a practitioner of the ancient wisdom of Himalayan meditation, having studied essential yoga (asana, breathing and meditation) from the age of nine at the Royal Arogya Ashram founded by his grandfather in Nepal. A thoroughbred of the meditation world, he began teaching royalty and dignitaries at the age of 15. At the age of 22, he completed his PhD in Yoga Meditation and graduated in Business Administration from the prestigious Tribhuvan University and became a meditation researcher with a strong business background. He is a professional educator who has taught in 20 countries for nearly 30 years and has trained over 100 yoga and meditation teachers since coming to Japan in 2003. Since 2019, he has founded Suwaru Inc. He offers numerous methods of meditation and mindfulness for modern life, such as the Nirmal method recommended for business people.
TAGS