2021.4.5 [Mon.] (19:00 - 20:00)
Meditation Talk Live「Teach Us, Mr.Nirmal!」
The 24th「Teach Us, Mr.Nirmal!」
Date and Time:4.5.[Mon]19:00-20:00
Guest:MICHIRU -Makeup Artist/ Beauty Director
※Held on the first Monday of every month
※Live streaming available
"Teach Us, Mr.Nirmal!" is a content in which Dr Nirmal, who has 35 years of meditation, answers a wide variety of concerns and consultations from various guests, and after the talk, practice meditation together to help solve your questions.
Guests on Monday,April 5th,
MICHIRU
,who is a makeup artist and beauty director.
She was in France and America. After returning to Japan,She Worked on many make-ups for actresses and artists in domestic and international fashion magazines, advertisements, videos, etc.She is active not only as a cosmetics advisor and consultant, but also as a creative director of product development and a school instructor.In addition, she has a deep knowledge of organics and is active in a wide range of fields, such as advocating inner beauty that can clean the skin, mind, and inside of the body. She also published a make-up book "Make You Up". She is active in various places with the keyword "beauty" What kind of questions does Ms.MICHIRU ask Mr. Nirmal?
Let's meditate!!!
【Her lifestyle】
"I went on a trip to India in 2004. After staying in Ashram in Richkesh and experiencing Ayurveda in South India, I stopped eating meat and focused on naturally grown high-energy vegetables. In the morning, I eat fresh green juice such as kale and salad. I like making fermented foods such as enzyme brown rice, miso, rice bran pickles, and kimchi, and gluten-free and vegan sweets by hand.
I graduated from Dr Nirmal advanced class the other day, so I would like to continue to learn deeply.
I first encountered yoga in 1992. At that time, I was overwhelmed by hard work, and when I was looking for something that could improve my mind and body, I finaly found yoga. What meeting one book made me start going to the studio and my lifestyle changed 180 degrees.
I have a long history of meditation for about 20 years, but it's shallow. I've been serious about it for the last 10 years.Meditation helps with cosmetic development themes and color inspiration."
If you can't go far to the EPW's lounge to join or may not be in time, we are going to also live stream on Instagram, so please have a look!
suwaru Instagram:@suwaru_meditation
EVENT CALENDAR

Loading…
PROFILE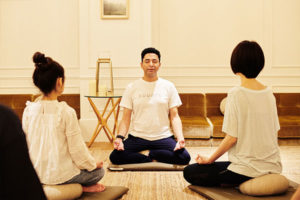 Mr. Nirmal Raj Gyawali
He is a practitioner of the ancient wisdom of Himalayan meditation, having studied essential yoga (asana, breathing and meditation) from the age of nine at the Royal Arogya Ashram founded by his grandfather in Nepal. A thoroughbred of the meditation world, he began teaching royalty and dignitaries at the age of 15. At the age of 22, he completed his PhD in Yoga Meditation and graduated in Business Administration from the prestigious Tribhuvan University and became a meditation researcher with a strong business background. He is a professional educator who has taught in 20 countries for nearly 30 years and has trained over 100 yoga and meditation teachers since coming to Japan in 2003. Since 2019, he has founded Suwaru Inc. He offers numerous methods of meditation and mindfulness for modern life, such as the Nirmal method recommended for business people.
TAGS