2021.12.6 [Mon] (19:00 - 20:00)
Meditation Talk Live「Teach Us, Mr.Nirmal!」
The 32nd「Teach Us, Mr.Nirmal!」
Date and Time:12.6[Mon]19:00-20:00
Guest:Emi Kanda / Editor, planner, nanadecor director / Juliette.inc
※Held on the first Monday of every month
※Live streaming
"Teach Us, Mr.Nirmal!" is a content in which Dr Nirmal, who has 35 years of meditation, answers a wide variety of concerns and consultations from various guests, and after the talk, practice meditation together to help solve your questions.
Guests on Monday,December 6th,
Emi Kanda
【Profile】
Worked for a major publishing company after working on fashion show production and editing production. Later, she founded Juliette.inc and worked as a fashion editor, editing women's magazines and books, advertising for domestic and foreign fashion brands, catalogs and web production. In 2005, she started "nanadecor" to convey the splendor and necessity of organic life. Not only product development, but also workshop planning, female employment support, clothing, food and housing, from various perspectives, total enlightenment of organic life. Currently, she begins consulting and direction work related to organics, activities to convey the importance of sleep, and approaches related to early childhood education. Graduated from Lima Cooking School Normal Course, sleep improvement instructor. AMPP Luboa Phytotherapy Advisor.
Her recent book "My organic note" is "A book that rests your mind because you are trying too hard". Currently, she has set up "my organic labo", a futuristic organic life research institute that nurtures women who can care for their mind and body, and is conducting various study sessions, planning, consulting, and content editing.
What kind of questions does she ask Mr. Nirmal?
Let's meditate!!!
We are going to live stream on Instagram, so please have a look!
suwaru Instagram:@suwaru_meditation
EVENT CALENDAR

Loading…
PROFILE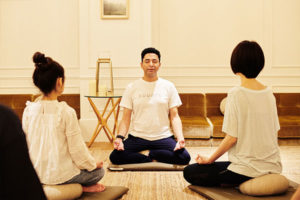 Mr. Nirmal Raj Gyawali
He is a practitioner of the ancient wisdom of Himalayan meditation, having studied essential yoga (asana, breathing and meditation) from the age of nine at the Royal Arogya Ashram founded by his grandfather in Nepal. A thoroughbred of the meditation world, he began teaching royalty and dignitaries at the age of 15. At the age of 22, he completed his PhD in Yoga Meditation and graduated in Business Administration from the prestigious Tribhuvan University and became a meditation researcher with a strong business background. He is a professional educator who has taught in 20 countries for nearly 30 years and has trained over 100 yoga and meditation teachers since coming to Japan in 2003. Since 2019, he has founded Suwaru Inc. He offers numerous methods of meditation and mindfulness for modern life, such as the Nirmal method recommended for business people.
Contact
TAGS