Wednesdays 19:00 - 20:00
Non-Members: ¥3000 / Members: Free
SOUND BATH with HIKO KONAMI
Wednesdays 19:00-20:00

Reservation button varies depending on the month of application.please note.
The event ended in December 2021.
PROFILE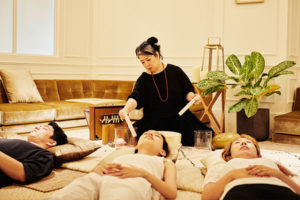 HIKO KONAMI
She grew up with Buddhist teachings from an early age. In a home where she was constantly surrounded by music, and spend her childhood imagining colors and stories from the sounds. She played the piano from the age of 4, and moved to the United States in 2005. While volunteering as a music therapist at NY University, she encounters the rhythmic Dalcroze music therapy from the Lucy Moses School and feels the effectiveness of music and meditation. From there on, she worked as a sound therapist and a mindfulness teacher centered in New York. She has participated in numerous meditation events and music festivals as a practitioner. Currently, she is based in Japan and provides sound meditation and sound bathing at events and companies.
TAGS