土or日 不定期開催
EPWメンバー: 1,500円
一般 :4,000円
書道を通して、日本文化やアート、日本語に触れる体験をします。
繰り返し学ぶ事で漢字の読み書き、書き順、漢字の意味も分かるようになります。
クラスを通して漢字と言う壁を乗り越えて、日本での生活を快適にし、日本人との交流を増やす事が出来るでしょう。
By learning over and over, you will be able to understand the reading and writing of kanji, the stroke order, and their meanings.Through the class, the barrier of kanji will disappear, and you will make your life in Japan comfortable, and increase interaction with Japanese people.Calligraphy has a calming effect, so, if you want, I would like to include meditation time as well.
※外国人向けですが、日本人の方もご参加頂けます。
【注意事項や持ち物】
・各自飲みたいものがあれば飲み物ご持参ください。
・黒いトップスでお越しください(墨がもし飛んでも汚れても良い服装)
開催日
不定期開催のため、毎回時間が異なりますのでご注意ください。
※下記カレンダーの時間帯ではなくこちらの時間をご確認ください。
10/25(日)17:30-19:00
10/31(土)15:30-17:00
11/14(土)16:00-17:30
11/28(土)15:00-16:30
12/5(土)15:00-16:30
Those Who wold like to join our workshop DM @akiwo_calligraphy with these information's.
① Full name ②Telephone number ③Email address ④Date
The seats numbers are limited,so don't miss it!
現地でキャッシュにてお願いいたします。(お釣りが必要ようにお願いいたします。)
Cash only You have nothing to bring, just wear black.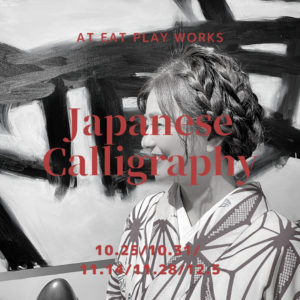 Akiwo_calligraphy
https://youtu.be/b4MVLZzwB0M
Kakehashi Agency
https://kakehashi.agency
---
View this event in English
https://eatplayworks.com/en/events/japanese-calligraphy-workshop/
View other events on EPW's English site
https://eatplayworks.com/en/events
View EPW's official English site
https://eatplayworks.com/en/
EVENT CALENDAR

読み込み中...
PROFILE
麻野亜希
幼い頃、書道家の祖母に影響を受け、書道を始める。芸術の都Parisに留学。留学中に外国人に書道を教えることをきっかけに帰国後もその経験を活かし日本文化やアートなどをもっと海外に発信していきたいと言う強い思いがあり、外国人が多く集まる広尾の街EPWにてワークショップを開催するに至る。
When I was young, I was influenced by my grandmother, a calligrapher, and I decided to start calligraphy.Afterwards, I studied abroad in Paris.While studying there, I had the opportunity of teaching calligraphy to foreigners.That is why now, II would like to use that experience in Japan. I really have a strong desire to spread Japanese culture. That is the reason why I am happy to give my classes at EPW, a town in Hiroo where it is for many foreigners to gather.